Courtney Woods – Jazz, Tap, HipHop, Intro to Dance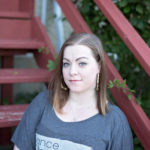 Being involved in the Alberta dance community for over 20 years, Courtney Woods has had the amazing opportunity to not only train under some of the most influential individuals in the diverse dance industry, but also all over Canada and the United States in numerous styles; Jazz, Tap, Ballet, HipHop, Funk Styles, Modern, Lyrical, Contemporary, Musical Theatre, African, and Latin, to name merely a few. With over 10 years of experience in the competition circuit, becoming certified in both A.D.A.P.T Jazz and Tap, and training with a specialization in Tap, Musical Theatre, and Hip Hop, she has developed a passion for the art and a desire to ensure that the Alberta dance scene is not only a great place to learn and grow as an artist, but also a cultural hub for the Performing Arts.
Over the past twelve years, Courtney has had the amazing opportunity to be a part of numerous shows and events in Calgary including the Special Olympics, Rhythm in the Garden, the Lilac Festival, multiple seasons of Dance Explosions, West Side Story, and most recently, a month-long tour of Hip Hop Saved My Life in mainland China. She has also danced in numerous Tap, Hip Hop, and Contemporary shows in Los Angeles, St. Louis and Chicago, was a founding member of two Tap companies: "MADD Rhythms Canada", and "Fab Feet", has volunteered her time with numerous Jr. and Sr. High schools and MoMo Dance Theatre across the province.
She continues to broaden her horizons  and strengthen her teaching skills by attending workshops such as Dance Ideas Seminar in the summer of 2016 in California.